Safety & Relief
Please
register
in order to download our catalogs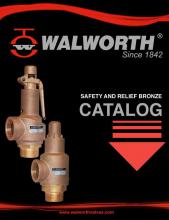 These valves work to release overpressure in a piping system or a vessel. WALWORTH offers these kinds of valves as a solution for the automatic release of pressure from boilers, pressure vessels or other systems when the pressure or temperature exceeds preset limits.
WALWORTH offers the following types of valves:
Safety Valves. A pressure safety valve is characterized by rapid opening and closing and normally used to relieve compressible fluids. These valves are made from Bronze and used for gas, air, and steam. Its main use is to relieve the pressure from systems such as boilers, autoclaves, compressors, steam generators, pressure vessels, bronze air or gas pipelines.
Relief Valves. A pressure relief valve characterized by gradual opening or closing, generally proportional to the increase or decrease in pressure system. This type of valve is typically made from Bronze and used on non-compressible fluids service. Its purpose is to release overpressure, protecting the equipment or system from damage. It is commonly used in tanks, pipelines or other vessels where a big relief capacity is not required.
WALWORTH offers this product line in the following materials:
Bronze as per ASTM B62 grade 83600
Interior materials available:
Bronze (naval brass)
Stainless Steel (SS304 & SS316)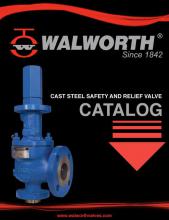 The conventional purpose of Cast Steel Safety and Relief Valves is to relieve overpressure inside a pressure vessel, power boiler, piping or any other type of system at a certain flow. This design covers almost all possible applications; its eductor tube removes the pressure from the bonnet, assuring the proper valve operation.
Design Features
Relief capacity according to ASME SECC. VIII DIV 1
Orifice area according to ASME SECC. VIII DIV 1
Distance between faces according to API 526
Flange dimensions according to ASME B16.5
NACE service according to MR-01-75 or MR-01-03
Tests according to API 527
Product Range
TYPE
SIZE
CLASS
ENDS

Safety and Relief Steel Valves

1" x 2" to 8" x 10"

150 x 150, 300 x 150, 600 x 150 PSIG.

RF or RTJ

Portable Safety and Relief
Steel Valves

3/4" x 1" to 2" x 2"

2000 to 5000 PSIG.

Threaded, Socket Weld or RF or RTJ